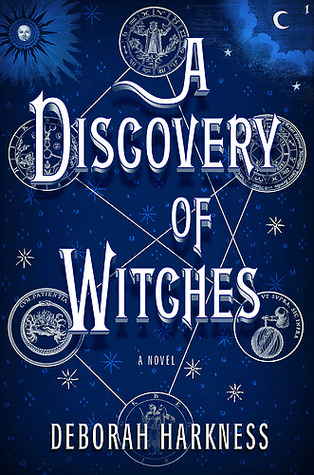 Title: A Discovery of Witches (All Souls #1)
Author:  Deborah Harkness
Genre:  Fantasy, Historical Fiction, Paranormal Romance
Publisher:  Viking Penguin
Release Date:  February, 2011
Format:  E-book
Acquired:  Kindle Purchase
Pages:  579
Dates Finished:  Sept 9, 2012 & Aug 17, 2014

Goodreads Description

Deep in the stacks of Oxford's Bodleian Library, young scholar Diana Bishop unwittingly calls up a bewitched alchemical manuscript in the course of her research. Descended from an old and distinguished line of witches, Diana wants nothing to do with sorcery; so after a furtive glance and a few notes, she banishes the book to the stacks. But her discovery sets a fantastical underworld stirring, and a horde of daemons, witches, and vampires soon descends upon the library. Diana has stumbled upon a coveted treasure lost for centuries-and she is the only creature who can break its spell.
My Review
I loved this book the first time I read it, and I loved it all over again during my re-read.  With the third book of the All Souls Trilogy, The Book of Life, recently being released, I had to re-read A Discovery of Witches.  I could remember the gist of the story line, but I knew I had forgotten the details.  Trust me, this is not a series in which you want to forget details.  Deborah Harkness has spun an intricate web of characters and story lines which delight at every turn.
Diana Bishop is the heroine of the novel.  She starts off as a socially awkward historian who loves nothing more than being submersed in her world of academia.  Her books are safe and far away from the world of witches in which she was raised, but when she accidentally calls up an old, enchanted book from the library stacks, Diana sets off a bomb which sends ripples through the underworld.  She has no idea the single event of opening a book will set her on a path that will not only change her life, but the future of every witch, vampire and deamon in existence.
There is history and science and witches and vampires and love and intrigue and time travel and just about everything else you could want in a good book.  I do have one warning…this book is LONG.  I can't really say the author should have chopped out a bunch of useless info, because there really wasn't any useless info.  Everything furthers the story in one way or another.  Even if it doesn't seem to be that important in this book, it comes into play in the next.  Deborah Harkness definitely has her crap together.  I love good world building and she does it wonderfully.
You may be wondering why I held back that 1/2 star on my rating.  It's because Harkness doesn't go into much detail about the logistics of time travel.  There are some important things that have to be answered when you get into time travel, like "What if you run into your former self?" or "Does your former self disappear from the past when you appear there from the future?" etc., etc.  Harkness basically tells Diana and the reader that you just have to trust the universe to work it all out.  I felt like she just didn't want to be bothered with the time travel details.  So, that was my only pet peeve with the book.  I couldn't give it a perfect 5 stars for that reason alone.
I hope you'll give this one a shot.  It's really a great read!