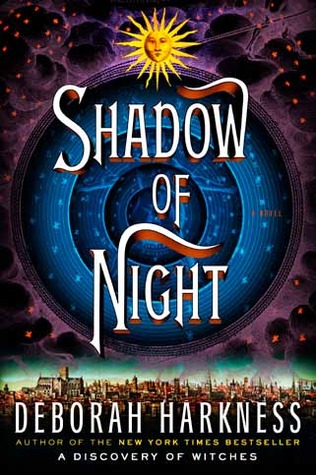 Title: Shadow of Night (All Souls #2)
Author:  Deborah Harkness
Genre:  Fantasy, Historical Fiction, Paranormal Romance
Publisher:  Viking
Release Date:  July, 2012
Format:  E-book
Acquired:  Kindle Purchase
Pages:  584
Dates Finished:  Oct. 20,  2012 & Sept. 1, 2014

Goodreads Description

Historian Diana Bishop, descended from a line of powerful witches, and long-lived vampire Matthew Clairmont have broken the laws dividing creatures. When Diana discovered a significant alchemical manuscript in the Bodleian Library,she sparked a struggle in which she became bound to Matthew. Now the fragile coexistence of witches, daemons, vampires and humans is dangerously threatened.

Seeking safety, Diana and Matthew travel back in time to London, 1590. But they soon realize that the past may not provide a haven. Reclaiming his former identity as poet and spy for Queen Elizabeth, the vampire falls back in with a group of radicals known as the School of Night. Many are unruly daemons, the creative minds of the age, including playwright Christopher Marlowe and mathematician Thomas Harriot.

Together Matthew and Diana scour Tudor London for the elusive manuscript Ashmole 782, and search for the witch who will teach Diana how to control her remarkable powers…
My Review
I recently finished my re-read of Shadow of Night.  As with my re-read of A Discover of Witches, I loved this book the first time I read it, and I loved it all over again during my re-read.  With the third book of the All Souls Trilogy, The Book of Life, recently being released, I had to re-read the first two books to get reacquainted with the details of the story line.  There is a ton of information and detail in Harkness' writing and most of it is important.
In Shadow of Night, the story line picks up immediately where book one left off.  Diana and Matthew have traveled back to 1591, England in order for Diana to learn how to control her powers and to try to locate the mysterious book, Ashmole 782, which put this entire adventure into motion.
I will admit that Shadow of Night was a slower read than A Discovery of Witches.  There was not nearly as much action, but there was a lot of story development.  Diana begins to understand why she had such a hard time with magic.  She also learns how to be an Elizabethan lady, as well as how to deal with an Elizabethan gentleman of the age.  Matthew has fallen into a life he has already lived once, which ends up being a double-edged sword, as both Diana and Matthew discover.
I loved Harkness' portrayal of historical figures such as Queen Elizabeth, Christopher Marlow and Sir Walter Raleigh.  William Shakespeare was even thrown in for good measure.  Their characterizations made them feel very real.  Several additional members of Matthew's family were also introduced.  We finally meet Phillipe, Matthew's larger than life father.  I absolutely loved him.  I also loved Gallowglass, Matthew's nephew, as well as several other new characters.  Harkness' ability to bring characters to life is definitely one of her strong suits.  Anyone who has read my blog knows character development is one of my biggest issues with books.  The plot can weaken and even drag for a bit, but I'll still love it if it's got characters I can fall in love with.
Wrap-Up
Shadow of Night did jump around a bit and it was a little slow in spots (thus the 4 star rating), but overall, it was a really fun read.  I hope you'll give this trilogy a shot.  I'm off to read The Book of Life, the final book in the trilogy!  Happy reading!!