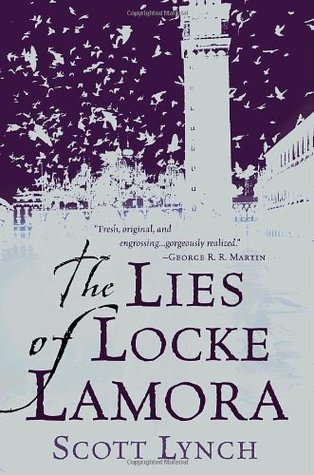 Title: The Lies of Locke Lamora (Gentleman Bastard #1)
Author:  Scott Lynch
Genre:  Fantasy
Publisher:  Bantam
Release Date:  June, 2006
Format:  E-book
Acquired:  Kindle Purchase
Pages:  501
Dates Finished:  June 8, 2014

Goodreads Description

An orphan's life is harsh — and often short — in the island city of Camorr, built on the ruins of a mysterious alien race. But born with a quick wit and a gift for thieving, Locke Lamora has dodged both death and slavery, only to fall into the hands of an eyeless priest known as Chains — a man who is neither blind nor a priest.

A con artist of extraordinary talent, Chains passes his skills on to his carefully selected "family" of orphans — a group known as the Gentlemen Bastards. Under his tutelage, Locke grows to lead the Bastards, delightedly pulling off one outrageous confidence game after another. Soon he is infamous as the Thorn of Camorr, and no wealthy noble is safe from his sting.

Passing themselves off as petty thieves, the brilliant Locke and his tightly knit band of light-fingered brothers have fooled even the criminal underworld's most feared ruler, Capa Barsavi. But there is someone in the shadows more powerful — and more ambitious — than Locke has yet imagined.

Known as the Gray King, he is slowly killing Capa Barsavi's most trusted men — and using Locke as a pawn in his plot to take control of Camorr's underworld. With a bloody coup under way threatening to destroy everyone and everything that holds meaning in his mercenary life, Locke vows to beat the Gray King at his own brutal game — or die trying…
My Review
The Negative…
Ok, I struggled with this book.  It had been touted as Robin Hood meets Ocean's Eleven, so I was expecting one heck of a ride.  What I got was a SLOW first half and a good second half.  This 501 page slog could easily have been pared down to around 350 pages.
The book unfolded in 3 different segments…
Segment #1:  Every other chapter was a flashback to Locke's childhood, explaining how he had moved from an orphan to the most notorious gentleman thief in Camorr.  This is also where the other Gentleman Bastards, Jean, Calo & Galdo, were introduced.  In my opinion, they were even more likeable than Locke.  I usually don't like flashbacks, but I actually didn't mind these chapters at all.  I almost liked them better than most of the main storyline(s).
Segment #2:  This storyline began by showing you the Gentleman Bastards' game, how they picked their victim, how they got in the vic's good graces, and how they robbed them blind.  The whole first half of the book was about this grand robbery scheme and then, all of a sudden, it completely shifted.  Other than their victim getting them into a very important party later in segment #3, I see no reason why I was forced to endure all these chapters.  I kept waiting on it to come back into play, but it never did.  Segment #2 could have been dramatically shortened which would have made the entire book flow better.
Segment #3:  This one was all about the bad guys, how they attempt to destroy everything Locke lives for, and how Locke fights back to save his life, his friends, and the lifestyle he loves.
The segments just didn't flow well.  Segment #2 basically left me feeling flat through the remainder of the book, even though Segment #3 picked up dramatically.
The Positive…
Segment #1 was wonderfully written.  The Gentleman Bastards' back-stories were very interesting.  We were introduced to Father Chains, the man who raised and mentored the bastards.  He was both funny and fascinating.  His interactions with the boys were wonderful.  I think I would have enjoyed an entire book about nothing but the boys' back-stories.
Segment #3 was more like what I was expecting from the whole book.  It was action packed!  I was constantly wondering how Locke was going to get out of his sticky situations.
There were some really great characters.  Father Chains and Jean Tannen were my favorites.  Locke was too cocky for my tastes, but he and Jean complimented each other well.  The author did a admirable job of developing certain characters, like Locke, Father Chains and Jean.  Most of the other characters felt flat throughout the book.
Wrap-Up
Well, there you have it.  It got 3 stars because it was really just a middle of the road book.  I doubt I'll read any others in the series.  What the author did well, he did really well, but there was too much dragging for me to take a chance on the others.  If you are a die-hard, high-fantasy reader, you will probably like this one.  If you are easily distracted, get bored with details, and like non-stop action, this is not the book for you.  I can see why it was compared to Robin Hood and Ocean's Eleven, but trust me, it's not enough like either one to make it a deciding factor about whether to read it.