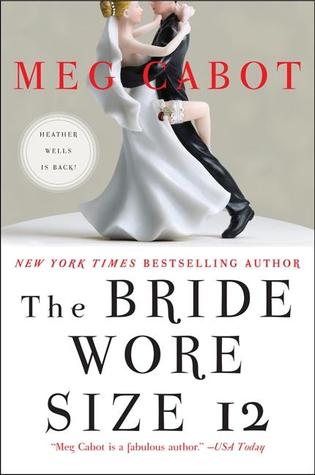 Title: The Bride Wore Size 12 (Heather Wells #5)
Author:  Meg Cabot
Genre:  Fiction, Chick Lit, Cozy Mystery
Publisher:  William Morrow Paperbacks
Release Date:  September, 2013
Format:  Paperback
Acquired:  Won through
TLC Book Tours' Book Club of the Month Contest
Pages:  392
Dates Finished:  June 19, 2014

Goodreads Description

Heather Wells is used to having her cake and eating it too, but this time her cake just might be cooked. Her wedding cake, that is.

With her upcoming nuptials to PI Cooper Cartwright only weeks away, Heather's already stressed. And when a pretty junior turns up dead, Heather's sure things can't get worse—until every student in the dorm where she works is a possible suspect, and Heather's long-lost mother shows up.

Heather has no time for a tearful mother and bride reunion. She has a wedding to pull off and a murder to solve. Instead of wedding bells, she might be hearing wedding bullets, but she's determined to bring the bad guys to justice if it's the last thing she does . . . and this time, it just might be.
My Review
Let me start by saying I'm not a big fan of Chick Lit.  It tends to be a bit boring and predictable and, for lack of a better word, girly.  I am NOT a girly girl.  I'm logical, technical, not very emotional, babies don't do a thing for me, etc., etc.  Not to say women don't have some of these traits, but I seem to think a lot more like a man than a woman.  So why I entered to win this book from TLC Book Tours' Book Club of the Month Contest, I will never know.  The book description makes it very clear this is chick lit, so what was I thinking?  I think I thought the mystery aspect would save it, and it did to a certain extent.  That's why it got 3 stars instead of 2.
This book is the 5th in the Heather Wells series.  I didn't know that when I requested it, but it really didn't present much of a problem while reading.  Apparently, each story is pretty self-contained.
The book was far from exciting.  There was one big "OMG" moment, but other than that, it was pretty ho-hum.  Even the "steamy fiancé" was not really that steamy.
I did like Heather's internal monologue.  She was funny and spunky in a few spots.
Wrap-Up
If you like chick lit, go for it.  If you like cozy mysteries, go for it.  If you need some substance or any depth to your books, skip this one.