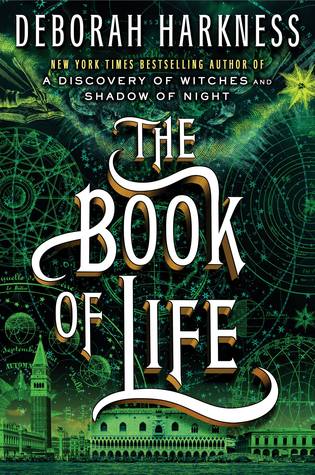 Title: The Book of Life (All Souls #3)
Author:  Deborah Harkness
Genre:  Fantasy, Paranormal Romance
Publisher:  Viking
Release Date:  July, 2014
Format:  E-book
Acquired:  Kindle Purchase
Pages:  561
Dates Finished:  Sept. 13, 2014

Goodreads Description

After traveling through time in Shadow of Night, the second book in Deborah Harkness's enchanting series, historian and witch Diana Bishop and vampire scientist Matthew Clairmont return to the present to face new crises and old enemies. At Matthew's ancestral home at Sept-Tours, they reunite with the cast of characters from A Discovery of Witches—with one significant exception. But the real threat to their future has yet to be revealed, and when it is, the search for Ashmole 782 and its missing pages takes on even more urgency. In the trilogy's final volume, Harkness deepens her themes of power and passion, family and caring, past deeds and their present consequences. In ancestral homes and university laboratories, using ancient knowledge and modern science, from the hills of the Auvergne to the palaces of Venice and beyond, the couple at last learn what the witches discovered so many centuries ago.
My Review
I recently finished my re-read of A Discovery of Witches & Shadow of Night.  I have to admit that by the time I was half way through The Book of Life, I was ready to be done.  Don't get me wrong, it was good, but 1800 pages in a row of anything is too much in my opinion.  I probably should have broken it up with a different book, but I was excited to see how everything would end.
The Book of Life and Deborah Harkness have taken some hits this time around.  A lot of people have bashed Harkness for taking so long to get out the third book of the trilogy.  I have to admit, I was aggravated by having to wait two years for the finale, but at the same time, I'm not a writer, so who am I to tell her how long it should take her to write a 600 page book?  The book itself has also received some not so nice reviews.  The main complaints seem to be that the book was choppy and it left too many loose ends.  Personally, I didn't come away from it feeling that way.  I will admit Harkness left the door open for additional books, but I felt she tied up most of the loose ends regarding Diana and Matthew.
My biggest complain was that Gallowglass (my favorite character) received no finality to his story.  I want a spin-off, gosh darn it!  I want a happy ending for Gallowglass!
Wrap-Up
Ok, bottom-line…The Book of Life was not as good as A Discovery of Witches or Shadow of Night, but it was still good.  It did jump around a bit, it was a little slow in spots, and Diana and Matthew didn't seem to have the same fire as in the previous books, but overall, it was a satisfying end to the series.