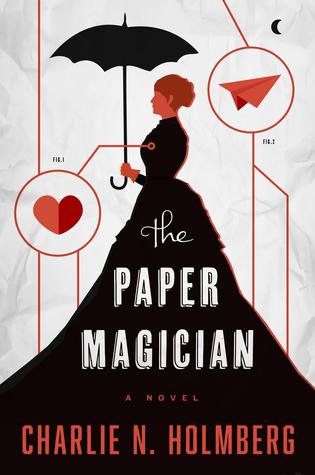 Title: The Paper Magician
Author:  Charlie N. Holmberg
Genre:  Fantasy; Urban Fantasy
Publisher: 47North
Release Date: September 1, 2014
Format:  E-book
Acquired:  Netgalley ARC
Pages: 224
Date Finished: October 26, 2014

Goodreads Description

Ceony Twill arrives at the cottage of Magician Emery Thane with a broken heart. Having graduated at the top of her class from the Tagis Praff School for the Magically Inclined, Ceony is assigned an apprenticeship in paper magic despite her dreams of bespelling metal. And once she's bonded to paper, that will be her only magic…forever.

Yet the spells Ceony learns under the strange yet kind Thane turn out to be more marvelous than she could have ever imagined—animating paper creatures, bringing stories to life via ghostly images, even reading fortunes. But as she discovers these wonders, Ceony also learns of the extraordinary dangers of forbidden magic.

An Excisioner—a practitioner of dark, flesh magic—invades the cottage and rips Thane's heart from his chest. To save her teacher's life, Ceony must face the evil magician and embark on an unbelievable adventure that will take her into the chambers of Thane's still-beating heart—and reveal the very soul of the man.
My Review
This book had an amazing concept.  Ceony has been bonded to a magic she is rather ho-hum about, but her internship with Thane has turned her on to the wonders of paper magic.  She has just settled in to her new life when someone comes in and literally rips Thane's heart out and flees with it.  Well, because we're talking magic here, Ceony is able to make Thane a heart from paper, but she knows it will only keep him alive for a couple of days.  Ceony realizes she must track down Thane's heart and return it before he dies.  Sounds really good doesn't it?  Well, it was…up to this point.  Then, the book slowed to a snail's pace!
Ceony tracks down the magician who stole the heart, and, somehow, the magician traps Ceony in Thane's living, beating heart.  Again, the concept was great.  Ceony comes to know Thane through his own heart.  What better way to get to know someone than by the secrets their heart holds?  But, I'll tell ya…The slog through Thane's heart about did me in.  By the time Ceony passed from the first chamber into the second, I was seriously asking myself if I could make it through all four chambers.  Luckily, the first chamber was the longest, and the others went relatively quick.
The ending was rather anticlimactic, but I could really see this being a good series.  Holmberg's writing was very good and the beginning of the book was great.  I really liked Thane.  And, some of the magic Ceony performed was beautiful.  I actually went to Netgalley and requested book 2 of this series right before Ceony entered Thane's heart.  After that, I was questioning if I really wanted to read book 2, but after finishing the book, I decided I would give the next one a chance.
Special Thanks…
I'd like to give a shout out to Netgalley, 47North, and Charlie Holmberg for giving me the opportunity to read and review this ARC.