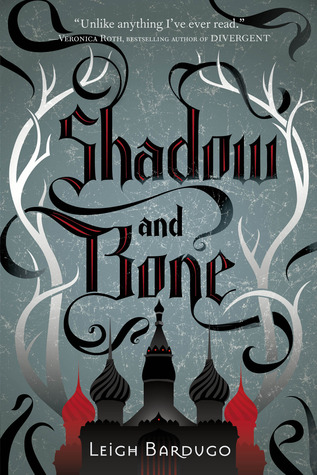 Title: Shadow and Bone (The Grisha #1)
Author:  Leigh Bardugo
Genre:  Fantasy & YA
Publisher:  Henry Holt & Co.
Release Date:  May, 2012
Format:  E-book
Acquired:  Amazon Purchase
Pages:  416
Date Finished: October 31 , 2014

Goodreads Description

Surrounded by enemies, the once-great nation of Ravka has been torn in two by the Shadow Fold, a swath of near impenetrable darkness crawling with monsters who feast on human flesh. Now its fate may rest on the shoulders of one lonely refugee.

Alina Starkov has never been good at anything. But when her regiment is attacked on the Fold and her best friend is brutally injured, Alina reveals a dormant power that saves his life—a power that could be the key to setting her war-ravaged country free. Wrenched from everything she knows, Alina is whisked away to the royal court to be trained as a member of the Grisha, the magical elite led by the mysterious Darkling.

Yet nothing in this lavish world is what it seems. With darkness looming and an entire kingdom depending on her untamed power, Alina will have to confront the secrets of the Grisha . . . and the secrets of her heart.
My R
eview
I really enjoyed this book!  I had a stretch of mediocre reads and this one really satisfied.
Alina was totally relatable, an odd girl who never really seemed to fit in.  She didn't think there was anything special about her until a near death experience brought a power out of her she didn't know was there.  Her entire world turned upside down from there.  She becomes enamored with the Darkling who is mysterious and hot, she loses contact with her best friend (and crush) Mal, she becomes big man on campus, and, through it all, she completely loses herself.  I definitely related to that fish out of water feeling.
Shadow and Bone was a great baptism into the world of Ravka.  Alina's introduction to the new world of the Grisha becomes your introduction as well.  Bardugo shows you the world instead of simply telling you about it.  World building at its finest.
I loved or hated every single character.  It didn't take half the book to decide whether I liked anyone.  The characters were grounded and well fleshed.
It ended with a cliff hanger, which I love.  Luckily, the entire trilogy was out by the time I read it, so it was off the next one.
Wrap-Up
I was 100% invested in this world and these characters from the start.  I highly recommend this book to anyone who likes fantasy.  Even though this is technically YA, it was not kiddy feeling in the slightest.  It was a very well-rounded fantasy plot with great characters.