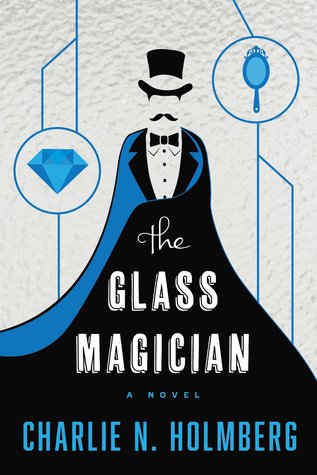 Title: The Glass Magician
Author:  Charlie N. Holmberg
Genre:  Fantasy; Urban Fantasy
Publisher: 47North
Release Date: November 4, 2014
Format:  E-book
Acquired:  Netgalley ARC
Pages: 224
Date Finished: December 8, 2014

Goodreads Description

Three months after returning Magician Emery Thane's heart to his body, Ceony Twill is well on her way to becoming a Folder. Unfortunately, not all of Ceony's thoughts have been focused on paper magic. Though she was promised romance by a fortuity box, Ceony still hasn't broken the teacher-student barrier with Emery, despite their growing closeness.

When a magician with a penchant for revenge believes that Ceony possesses a secret, he vows to discover it…even if it tears apart the very fabric of their magical world. After a series of attacks target Ceony and catch those she holds most dear in the crossfire, Ceony knows she must find the true limits of her powers…and keep her knowledge from falling into wayward hands.
My Review
After my luke-warm review of The Paper Magician, I finally decided to give The Glass Magician a shot.  It was better, but still not fabulous.  It only received a 1/2 star more.  Once again, the concept was really good.  The characters were likeable and the plot was decent, but it was missing that spark that ignited the burn to read it.  Do you guys know what I'm talking about?  Avid readers will know what I'm saying.  There is something that draws you to a really good book.  It sucks you in.  Sometimes you don't even know exactly what draws you in, but I know this didn't do it for me.
Much like the first book, the middle was slow.  Holmberg has really strong beginnings.  Then it seems like she loses her way a little in the middle and then pulls it all together in the end.  I'm not sure if I would recommend these books or not.  I know I won't be reading any more of them.  With that being said, I'm sure there is a group of people this book will appeal to.  It has beautiful magic in it which is really unique, plus there's a little romance.  Like I said, it just didn't do it for me.
Special Thanks…
I'd like to give a shout out to Netgalley, 47North, and Charlie Holmberg for giving me the opportunity to read and review this ARC.