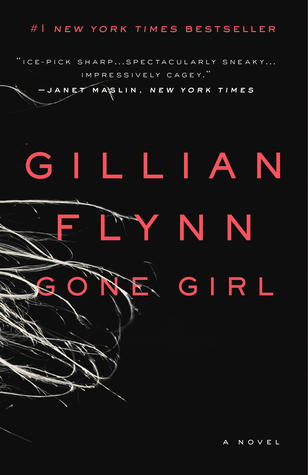 Title: Gone Girl
Author:  Gillian Flynn
Genre:  Fiction, Mystery, Thriller
Publisher:  Broadway Books
Release Date:  June, 2012
Format:  E-book
Acquired:  Kindle Purchase
Pages:  422
Date Finished:  July 26, 2014

Goodreads Description

On a warm summer morning in North Carthage, Missouri, it is Nick and Amy Dunne's fifth wedding anniversary. Presents are being wrapped and reservations are being made when Nick's clever and beautiful wife disappears. Husband-of-the-Year Nick isn't doing himself any favors with cringe-worthy daydreams about the slope and shape of his wife's head, but passages from Amy's diary reveal the alpha-girl perfectionist could have put anyone dangerously on edge. Under mounting pressure from the police and the media—as well as Amy's fiercely doting parents—the town golden boy parades an endless series of lies, deceits, and inappropriate behavior. Nick is oddly evasive, and he's definitely bitter—but is he really a killer?
My Review
I'll admit I was late to the party on this one.  My crazy rebellious streak rears its ugly head at the strangest things sometimes.  As Gone Girl was receiving tremendous buzz last year, I flirted with the idea of reading it, but ended up refusing just because everyone else was reading it.  I know, I'm weird like that.  I finally relented because this was last month's pick for our book club.  I have to say…I was impressed.
Gillian Flynn has quite a way of sucking you into her twisted, macabre rendering of reality.  I say her rendering of reality because I can't imagine anyone really being as sick and twisted as these characters.  There may be people out there like this, but thank goodness, I've never met any of them.  Manipulation is taken to a whole new level.
The beginning was a little slow.  As you become acquainted with Nick and his missing wife, there was some definite drag.  Most mysteries start this way, though.  The story has to build; You have to learn the characters and the back story.  Flynn does give you a few twisty tidbits as you go, but it's mostly a building exercise.  The most interesting part of it?  The entire opening section is meant to manipulate the reader.  Our minds automatically start trying to figure out the mystery.  Flynn relies on our human nature to totally mess with our heads.  Trust me, don't try to figure it out because Flynn is going to rip the rug right out from under you at the half-way point.  Just believe me, the characters are manipulating each other and the author is manipulating the reader.  I hate spoilers in reviews, so I will leave it that.
The ending aggravated the crap out of me because there was no finality.  But, that's life isn't it?  Most things don't get wrapped up in a nice, neat package for us.
Typically, I need a character I connect with to really like a book, but I hated all these characters and it didn't really bother me.  None of them were likeable in the slightest.  Well, I liked Nick's sister, Go, but she was not a main character.  These characters were deeply flawed, manipulative, and conniving.  Basically, they were just icky.  Of course, I don't think Flynn really meant for the reader to like them.  The plot doesn't really lend itself to likeable characters.
Wrap-Up
My book club thoroughly enjoyed this book.  We actually liked it so much, we decided to read Sharp Objects this month.  Our plans are to go see Gone Girl (the movie) opening night and have our Sharp Objects book discussion afterwards.  I'm not really convinced Ben Affleck is a good choice for Nick, but I'm willing to give him the benefit of a doubt.  I have heard rumors the movie rearranged the ending a bit.  Usually it makes me mad when a script writer takes creative liberties, but I actually hope they do on this one.  I want some satisfaction!!
If you are on the fence about reading Gone Girl, I say give it a shot.