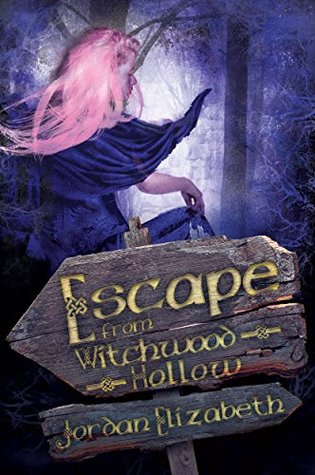 Title: Escape from Witchwood Hollow
Author: Jordan Elizabeth
Genre:  Urban Fantasy
Publisher: Curiosity Quills Press
Release Date: October 29, 2014
Format:  E-book
Acquired:  From author
Pages: 200
Date Finished: May 29, 2015

Goodreads Description

Everyone in Arnn – a small farming town with more legends than residents – knows the story of Witchwood Hollow: if you venture into the whispering forest, the witch will trap your soul among the shadowed trees.

After losing her parents in a horrific terrorist attack on the Twin Towers, fifteen-year-old Honoria and her older brother escape New York City to Arnn. In the lure of that perpetual darkness, Honoria finds hope, when she should be afraid.

Perhaps the witch can reunite her with her lost parents. Awakening the witch, however, brings more than salvation from mourning, for Honoria discovers a past of missing children and broken promises.

To save the citizens of Arnn from becoming the witch's next victims, she must find the truth behind the woman's madness.

How deep into Witchwood Hollow does Honoria dare venture?
My Review
Escape from Witchwood Hollow was an intriguing tale.  The story was told through three narrators from three different time periods.  I'll admit I stumbled over the POV shifts the first couple of times, but after a while I got used to them and actually enjoyed seeing the hollow through different characters' eyes.
The characters were all interesting, however, I wish some of them had been better developed.  Honoria, the best developed character, was very likeable.  I enjoyed her part of the tale best.
The plot was well paced for the most part, no lulls that I remember.  The biggest issue I had with the book was that the end came very suddenly.  There was a big shocking event (which I won't divulge) and then the book was over.  It reminded me of a lithium battery, no warning that it was out of power, just dead all of a sudden.  It was disconcerting to say the least.  I guess you could turn this into a positive, in that I didn't want it to be over.  I just wish there had been more of a slow coast to the end.
Wrap-Up
Great story!  It was a little creepy and very interesting.  It was a super fast read.  It sort of reminded me of a fairy tale.  It had that same mythical feel to it.  I'd give it a solid 3 1/2 stars that I'd round up to 4.  I hope you'll give it a read.
Special Thanks…
I'd like to give a shout-out to Jordan Elizabeth for reaching out to me and allowing me to review her book!