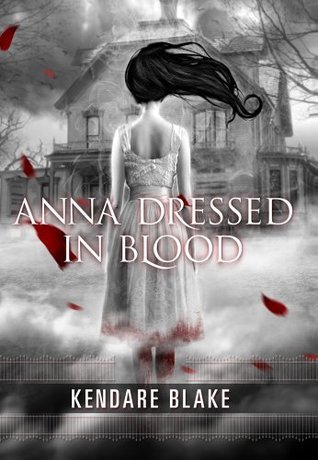 Title: Anna Dressed In Blood
Author:  Kendare Blake
Genre:  Urban Fantasy, YA, Horror
Publisher:  Tor Teen
Release Date:  August, 2011
Format:  E-book
Acquired:  Amazon Purchase
Pages:  316
Date Finished:  , 2014

Goodreads Description

Cas Lowood has inherited an unusual vocation: He kills the dead.

So did his father before him, until he was gruesomely murdered by a ghost he sought to kill. Now, armed with his father's mysterious and deadly athame, Cas travels the country with his kitchen-witch mother and their spirit-sniffing cat. They follow legends and local lore, destroy the murderous dead, and keep pesky things like the future and friends at bay.

Searching for a ghost the locals call Anna Dressed in Blood, Cas expects the usual: track, hunt, kill. What he finds instead is a girl entangled in curses and rage, a ghost like he's never faced before. She still wears the dress she wore on the day of her brutal murder in 1958: once white, now stained red and dripping with blood. Since her death, Anna has killed any and every person who has dared to step into the deserted Victorian she used to call home.

Yet she spares Cas's life. 
I have been trying to find something to satisfy my craving for creepiness this Halloween.  I totally struck out with my first two choices.  Since I have seen this book suggested time and time again as a good ghost story, I decided I'd give it a shot.  I'm so glad I did!
My R
eview
Let me set the record straight…this book was not scary.  It didn't creep me out in the slightest; however, it was rather gruesome in a few spots.  But, to tell you the truth, it really didn't matter that it wasn't scary.  It was a really good story.  I'm willing to sacrifice creepiness for good story spinning any day of the week!
Blake created some fun and memorable characters.  Cas, the hero of the tale, is a bit of a loner.  But, you would be too if you'd spent most of your life moving around the country, hunting ghosts, and killing them.  It's not exactly the type of job where you can make a lot of friends.  Despite his best efforts to remain aloof, he finds some great companions (and eventually friends) in Carmel and Thomas.  Carmel appears to be the typically beautiful cheerleader type, but Cas soon discovers she has a good head on her shoulders and she is not easily flustered.  Thomas is the geeky outcast who has a penchant for the supernatural.  They end up being a rather motley crew of supernatural investigators.  Thinking he is going to just run in and kill Anna Dressed In Blood, Cas is thrown for a loop.  Anna is not your typical ghost; therefore, Cas ends up needing all the help he can get.
The story had a really easy flow to it.  I love a book that doesn't make me go back and re-read sentences in an effort to figure out what the heck the author means.  I love a good turn of phrase as much as any reader, but come on.  If the story doesn't lend itself to flowery prose, don't use it!  Ok, I digress.  Blake's writing style didn't aggravate me in the slightest.
The plot was put together well.  There were no major gaps that I noticed.  Best of all, there were no crazy, artsy-fartsy twists at the end to make me hate it.
Wrap-Up
Thank you, Kendare Blake, for writing a good ghost story that had good characters, a good plot and good writing!  I have found out this Halloween how hard that is to come by.  This is a YA book, but it didn't come across as childish.  I don't remember rolling my eyes a single time!  It is a solid 4 stars.  I hope you will give it a shot!